If you buy something from the links on this page, we may earn a commission. Why Trust Us?
The Best Travel Pillows to Get Some Shut-Eye on Your Next Red-Eye
Flying coach? Pack one of these for first-class comfort as well as a stealthy way to pack more clothing.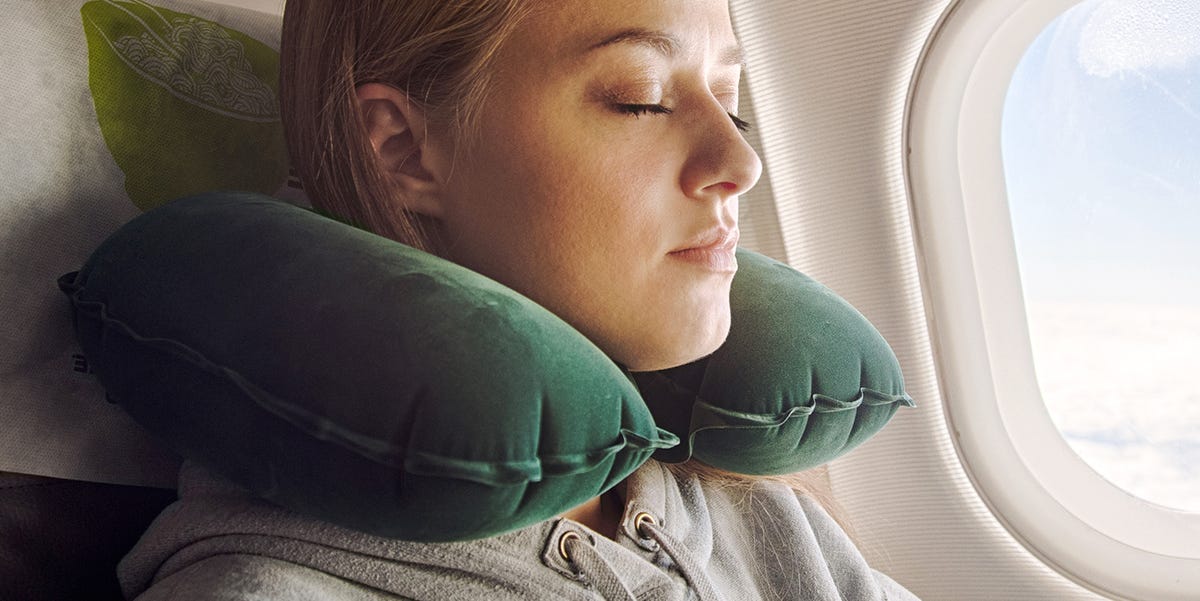 Stocksy
As I write this, I'm some 20,000 feet above ground en route to Minneapolis. I woke up at 4:30 a.m. to make my flight, only to learn it was delayed until 9:50 a.m. and I'd miss my connecting flight out of MSP. The one silver lining (other than the free bloody mary on deck for me)? I have a spiffy new travel pillow from Trtl so I can nap comfortably along the way. And even if you're not running on a few hours of sleep and no caffeine as I am, yes, you need a travel pillow.
Whether you're catching a red-eye flight, saying "all aboard" to a lengthy train or bus ride, or you're packing for a long car trip, a travel pillow can be that sweet sliver of salvation on dawn-to-dusk or simply slower-than-you'd-like travel days. So don't forget to bring your travel pillow next time you pack your bags—you definitely don't want to get stuck overpaying for an uncomfortable one at a rest stop or airport store.
These travel pillows are the best to have on hand since they're suited to a range of comfort preferences, packing capacities, and traveling styles.

The Best Travel Pillows
What to Consider
Pillow design
A lot of travel pillows fit around the neck so that you can just tilt your head slightly to feel cushioned by it. You may even be able to wear it from the front, back, or sideways, depending on your comfort level. Some can also be tightened, loosened, or bent into shape for a custom fit. Plus, if you don't already own an eye mask that you love, some travel pillows are sold in a convenient bundle with them.
However, if it seems impossible for you to get good sleep — especially while traveling — you can get a camping-style travel pillow like the Wise Owl Outfitters Camping Pillow or the Pillow Cube Sidekick Pillow. These are essentially smaller and more portable versions of regular bed pillows, and they can offer a little more support and softness, too.

Packing space
If you're a total travel minimalist, the idea of a plush travel pillow dangling off of your carry-on or taking up precious space in your suitcase might be irritating enough to make you want to leave it at home. The best solution is getting an inflatable travel pillow such as the AirComfy Inflatable Neck Travel Pillow that blows up when you need it and rolls up tidily in your suitcase when you don't.

If you have slightly more space to spare, some travel pillow designs such as the Chill-o Travel Pillow now give you the best of both worlds with their cushy feel and compressible material that you can squish flat when you're not using it. Many of the picks in this guide even come with their own carrying case to help you transport and stow them a little more easily.

There's even a new Tiktok #pillowhack where travelers are now stuffing their travel pillows with clothing to avoid checked bag fees. If you're a chronic overpacker, we recommend the Dot&Dot travel pillow for packing overflow.
How you're traveling
One final consideration that may differ from trip to trip is the seat that you'll be snoozing in. People who prefer the aisle seat — or frequently get stuck in the middle seat — of a train or airplane may not want to get a travel pillow that only works best when leaned against a flat surface. Luckily, there are numerous options in this guide that we (and scores of reviewers) really love.
How We Selected
Many travel pillows today are made with portability in mind, offering both a compact size and clips for hooking onto your backpack or other luggage when you're on the move. Plus, many clock in with ultra light weights of only a few ounces or so. We logged hours on flights testing some of the pillows ourselves, tapped industry publicists from top travel pillow company brands to find out about the latest and greatest pillows available, and also looked at customer reviews, price, comfort, and other considerations to select the absolute best travel pillows for sale right now.
These travel pillows are soft, supportive, washable, and easy to carry with you from point A to point B. Here are the best travel pillows that'll have you ready for takeoff.
Advertisement - Continue Reading Below
Advertisement - Continue Reading Below
Advertisement - Continue Reading Below
Advertisement - Continue Reading Below

Perri is a New York City-born and -based writer; she holds a bachelor's in psychology from Columbia University and is also a culinary school graduate of the plant-based Natural Gourmet Institute, which is now the Natural Gourmet Center at the Institute of Culinary Education. Her work has appeared in the New York Post, Men's Journal, Rolling Stone, Oprah Daily, Insider.com, Architectural Digest, Southern Living, and more. She's probably seen Dave Matthews Band in your hometown, and she'll never turn down a bloody mary. Learn more at VeganWhenSober.com.
Senior Service Editor
Melanie Yates is the senior service editor of Best Products, where she writes and reports pieces pertaining to the etiquette, dilemmas, and how-tos of gift-giving for different occasions. Previously, she was the site's senior home editor, covering all things decor- and bedding-related since 2015. Her digital byline can also be found on Bustle, House Beautiful, and Elle Decor. A longtime classical-music enthusiast, Melanie spends her off-hours enjoying performances big and small across New York City.