If you buy something from the links on this page, we may earn a commission. Why Trust Us?
The 30 Best Gifts For Every Kind of Cyclist In Your Life
Gear up for the pedaler on your gift list!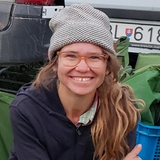 By Vanessa Nirode
More people are cycling than ever, so chances are that you have someone in your life who loves to ride their bike more than anything. Maybe your partner likes to slip out of bed early on weekend mornings to don their spandex and pedal the day away with their friends? Or you have a friend or two who show up to everything on two wheels, inevitably greeting you with either; "Don't hug me. I'm sweaty," or "Is it okay to bring my bike in here?"
The good news is that cyclists are easy to shop for. Whatever kind of bicycle lover you have in your life, they probably spend a lot of time talking about where they've ridden, where they're going to ride, how many gears they have, and what kind of bike they want to buy next. If you're having trouble picking out a perfect gift for one, I've got a long list of great cycling gear here that would be perfect for any bike nerd.
Gifts for Cyclists
The Expert: I'm a cyclist and New Yorker, and I literally rides my bike everywhere unless there is an active snowstorm. I do group road and gravel rides regularly with the New York Cycle Club and once, long ago, even raced. I've also completed numerous multi-month bikepacking and road cycling trips in Europe, Central Asia, the Middle East, and Southeast Asia. (And I have a big South America trip planned for 2024).
Between trips, I've written about cycling, gear and travel for almost two decades for BBC Travel, Fodor's, HuffPost, Adventure Cycling Magazine, Bicycling, Popular Mechanics, Popular Science, and many others. But I would always rather be riding my bike.
How to Shop for Cycling Gifts
Though buying a new bike for your cyclist may seem like the obvious choice, we'd recommend steering clear and looking at accessories or other gear around the world of cycling. A good bike is expensive–as in thousands of dollars–and I'd generally urge any rider to test ride a new bike before buying it.
Given that, I usually steer friends and loved ones towards gear and cycling-related gifts. Things like bags, bells, tools, or cool gadgets are all great additions to a cyclist's kit. It's probably best to stay away from anything that is specific to a particular kind of bike or style of riding unless you're absolutely certain you know what your intended gift recipient prefers. And, of course, if their love runs deep, you can always give them a gift that shows off their love of cycling off the bike.
Bags
There are all sorts of bags and baskets available that attach to bicycles in a variety of ways. Look for ones that are easy to remove and are secured via velcro straps or something similar, which will likely fit on any bike.
Cool Gadgets
There is always new bike tech and gadgets that can potentially make your loved one's biking life easier. From mounts to attach a phone and bike computers, to tech that makes sure they're safe while out on the road.
Tools
Bike tools can be an incredibly useful and effective gift. From multitools and patch kits for quick fixes to levers, pedal wrenches, and other large tools for tuning up a bike in the garage, every cyclist needs to be able to repair a bike from time to time. Plus, bike tools are compatible with any bike, so you don't need to worry about what your cyclist is riding.
In fact, you don't even need to worry about what tools they own. It's really convenient to have duplicates of certain tools, like multitools and tire levers, especially if your person regularly switches between multiple bikes. Pumps and other inflation devices are also usually a safe bet. The occasional flat tire is inevitable for anyone who rides on a regular basis, so now they'll be ready when there's a bump in the road.
Cycling Themed Stuff
Of course, you don't need to buy something technical to appeal to your giftee's love of cycling. There is a seemingly endless array of cycling themed gifts, including curtains, towels, rugs, posters, mugs, and pizza cutters (to name a few). When in doubt, any gift with a picture of a bike or a bike tire on it will show that you know what they're about.
What about clothing?
We'd recommend steering clear from buying cycling clothes as a gift unless you've been told what size to buy. Technical cycling clothes, including spandex jerseys and padded shorts or riding "bibs," fit tight, and the sizing varies greatly from brand to brand. That said, casual athletic clothing for easy rides, like moisture wicking t-shirts, athletic shorts, sunglasses, and socks all make great gifts.
How We Selected These Cycling Gifts
I've used most of the gear on this list over the years and loved it. Some of it also comes from recommendations I've received from other cyclists on riding trips (who are a very opinionated bunch). Overall, I tried to choose useful items that your favorite bike lover might not already own. Some of it may be cute and cheesy, but it's all fun.
Advertisement - Continue Reading Below
Advertisement - Continue Reading Below
Advertisement - Continue Reading Below
Advertisement - Continue Reading Below
Advertisement - Continue Reading Below
Advertisement - Continue Reading Below

Vanessa Nirode is a freelance writer who covers wellness, culture, outdoor adventure and travel for Hearst, HuffPost, PopSci, BBC Travel, and Threads, among others. She's also a pattern maker and tailor for film and television but most of the time, she'd rather just be riding her bicycle.