If you buy something from the links on this page, we may earn a commission. Why Trust Us?
13 Best Sippy Cups, According to Parents and Toddlers
They may not have many words, but they do have preferences.
By Cat Bowen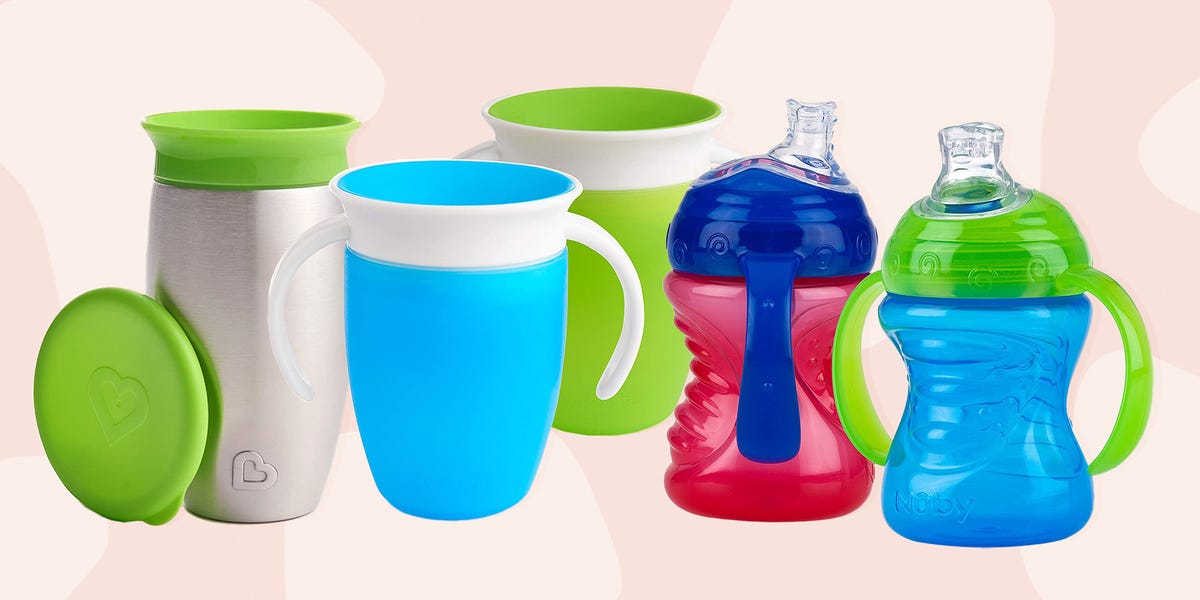 Best Products; Munchkin, Nuby
Getting kids to give up the bottle can be a huge pain, but having the best sippy cups possible makes the transition a little bit easier. In fact, giving them a sippy cup all wrapped up is a fun way to help them graduate from using the bottle. By making it a gift, you're making the transition a more fun experience. Sippy cups come in all sorts of fun patterns and colors (which kids love), so it sweetens the pot, but finding the right one is key for not only convenience, but for your child's oral health as well.
There are so many different types of sippy cups, from those just this side of a bottle, to cups that have straws, and more. And, of course, there's a lot of conflicting advice on social media about the ins and outs of sippy cups and their usage, mucking up the waters and making everything more confusing. So I called in the experts to find out the real information about sippy cups.
The Best Sippy Cups
What the Experts Say
I contacted orthodontist Dr. Scott Cardall of Orem Orthodontics and dentist Dr. Cary Goldstein of Goldstein Dental and asked them what parents should know about sippy cups. Dr. Cardall tells Best Products that there's nothing inherently problematic about sippy cups, instead, it's more about what you're putting inside the sippy cups. "The contents of a sippy cup can obviously be damaging to teeth," he says, and that the phenomenon known as "baby bottle caries," or cavities or tooth decay in baby teeth, "is a serious problem in younger children that are given sugary and/or acidic beverages. He adds that "serious care should be made to avoid bottles with sugary drinks that stay in the child's mouth overnight and for other extended periods."
Dr. Goldstein agrees with Cardall, adding that children should stop using sippy cups by age 2, and drink only from an open cup after that. As to what kinds of sippy cups should be used, Goldstein urges parents away from plastics containing BPA, as those can be dangerous to their child. Cardall suggests that you should also focus on sippy cups with smaller mouthpieces because they are less likely to impact the growth, or "eruption," of teeth.
Types of Sippy Cups
Unsurprisingly, like bottles, there are several types of sippy cups on the market. The main types are spout, straw, and spoutless.
Spout: Your traditional sippy cup. They're easy to drink from — just tilt and drink. Both the cup and the spout come in a variety of sizes, shapes, and colors. They're rarely leakproof, but they are slow to leak, which parents love.
Straw: Super popular for older kids or parents who don't love traditional spouted sippies, these have a soft straw (like that of the Lalo) that generally has some sort of cover to prevent spillage. Not all kids love this type, but they are the sippy cup with the smallest mouthpiece.
Spoutless: These are newer to the market, and they're making waves. They're made to release liquid when tipped like the Munchkin 360, but the lid of the cup looks and feels just like a regular open cup. It's the best transitional option. Alternatively, there are soft, spoutless, open cups made just for toddlers as well.
I spoke with a veritable bevy of parents to find out which cups they loved — and which ones their kids liked the best.
Advertisement - Continue Reading Below
Advertisement - Continue Reading Below
Advertisement - Continue Reading Below
Advertisement - Continue Reading Below

Parenting Editor
Cat Bowen has been writing about all things parenting for well over a decade. She spends her days researching, reviewing, and testing everything from strollers to breast pumps to changing tables. Her work has been featured in Romper, Bustle, and franchised across dozens of media outlets. In her spare time she loves volunteering at her kids' schools, reading everything she can get her hands on, running, and cooking for her family.